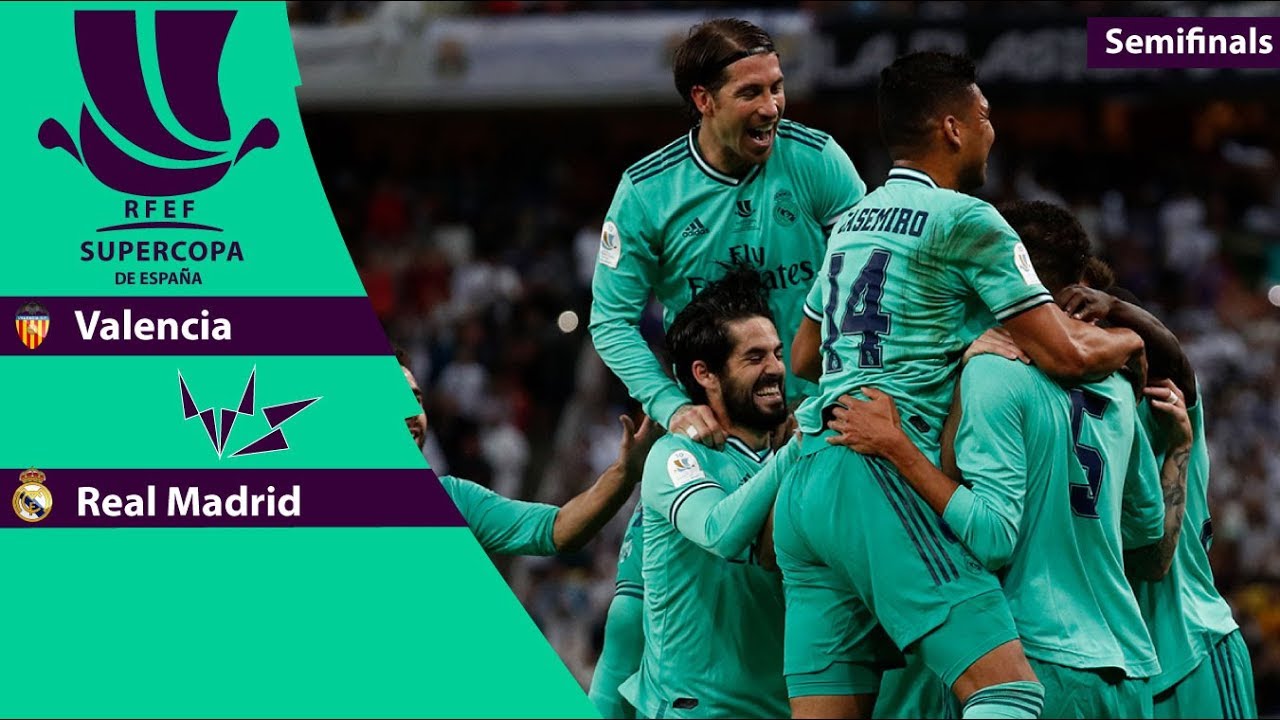 Sunday's Spanish Supercup final will pit Real Madrid against one of Atlético Madrid or Barcelona. That's because Zinedine Zidane's plan to field Casemiro, Isco, Fede Valverde, Toni Kroos and Luka Modric together worked to perfection in the 3-1 win over Valencia. Here we have our three answers and three questions piece from the match and it starts with a discussion of that unique five-man midfield.
How would the five-man midfield work?
It worked very well. So well. Zidane's plan could hardly have turned out better as Real Madrid completely controlled midfield in this one, attempting 798 passes and completing 93% of them to set a new passing record for the 2019/20 season. While some may have been concerned at the lack of attacking firepower in the formation, Kroos, Isco and Modric reminded everyone that they can be goalscoring midfielders and that they can offer something from those deep positions. Or, in the case of Kroos, from the widest position possible…
Would it be another clean sheet for Real Madrid?
Real Madrid came into this match with such a good recent defensive record. Thibaut Courtois has improved a lot and it was nine clean sheets from his previous 12 matches for the Belgian goalkeeper. Once again, the back line was solid and Courtois was too whenever he had to be. But it wasn't to be in terms of keeping another clean sheet. That's because a stoppage time handball call against Sergio Ramos provided Dani Parejo with a penalty and the Valencia captain fired past Courtois for a Valencia consolation goal.
Would we get to see Mariano?
Yes, we did see Mariano! For just the second time this season, Mariano made the 18-man matchday squad. And for the first time this season, the striker actually made it onto the pitch. The 26-year-old has been strangely ostracised from the first team this season even though he averaged a goal every 156 minutes two seasons ago at Lyon and even a goal every 185 minutes when he did play last year. Mariano didn't score during his time on the pitch in Jeddah, but he did demonstrate plenty of energy and did his chances of more minutes – whether at Real Madrid or a new club – no harm.
When was the last time Real Madrid scored an Olympic goal?
Kroos did something very special on Wednesday. The German spotted Jaume Domenech off his line and curled the ball in direct from a corner, scoring what's known as an Olympic goal. It's a very rare and special type of goal and one that Real Madrid haven't enjoyed since Davor Suker scored one at the Estadio Santiago Bernabéu on December 14th 1997 in a league match against Mérida.
Can Isco keep this up?
Isco scored his first goal of the season in this match, his 49th in total since joining Real Madrid. That has put him level with Zidane and he'll surely hit the 50 milestone soon. It wasn't just because of his goal on Wednesday night that Isco's performance deserves praise, as he was sensational in his passing as he helped Real Madrid control the game. He played 96 successful passes during the match, a number he had never before achieved in a game during his time at the club. So the question is – can he keep this up? Isco has been playing well for a while now, ever since he was brought back into the fold for the PSG home match. His precision, his commitment and his improved physicality have combined to make him an important player once again. This question can't be answered yet, though. We'll just have to wait and see if the Spaniard remains in top form as the business end of the season rolls around.
Will Bale fly in for the final?
Now that Real Madrid have one more match to play in Saudi Arabia, there is a chance that Gareth Bale could be flown in for the final. The Welshman didn't travel for this semi-final, but unlike Karim Benzema or Eden Hazard it wasn't because of injury. Instead, Bale had a virus. He may be recovered in time to play on Sunday, but Zidane has insisted that there's no way of knowing that yet. "He hasn't trained all week, so we'll speak with the doctors and see what to do," Zidane said of Bale in his post-match press conference.